Construction companies need a good logo design to stand out from their builder construction and home remodeling competitors.  99designs has designed thousands of great logos and images for construction building firms.
Whether you are a home improvement contractor, residential builder, an architecture firm or in commercial construction you want to brand your business solidly. If you also want inspiration and name ideas for your new company check out this list of 125 catchy woodworking business names.
Here are some of my favorite construction logos for your ideas and inspiration from my 99designs review.
All of these logos were done by the talented graphic designers at 99designs.com  PS I got my cool logo at the top of this blog from 99designs 🙂 . Watch the logo crowdsource process step by step 
Home Builders
99designs Logos for Construction and Builders
Love this bold graphic design that communicates strength and power. The clean lines and bold colors will print well on t-shirts, car wraps, trucks and outdoor signs and billboards.
Commercial Construction
Handyman Services 
Bathroom Renovators & Plumbers
Excavators
Construction Logos Design Tips
Building in New York? Check out my startup guide on How to Start a Construction Business in New York here
If you are part of a building firm or US home builder, then you will know just how crucial it is for something to be built on firm foundations.
A logo design for a construction company is a significant part of the latter, mainly because it's usually the first name a prospective client sees. Reputation is especially important in the building and homebuilder business, with client retention and satisfaction also key.
Starting out with the perfect emblem is an essential ingredient in the recipe for developing a building contracting firm. It establishes you like a good, reputable organization. It's your unique identity. But how on Earth do you find a symbol that will take your company to the next level? Here are a few things to consider while designing your logo.
PROMO TIP: Use your great new logo to promote your construction firm on super useful carpenter pencils.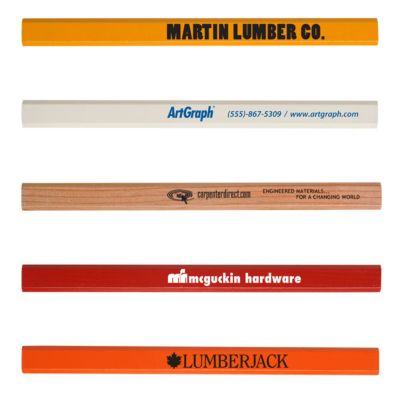 Price for 500 at $1.03 ea. Always have a Pencil within Reach! Features include: Lighwei… [More]
Price: $515.00
Why Create a Logo?
You might be asking yourself why a construction contractor even needs to make a symbol. Imagine you're driving with a young child and you pass by Toys-R-Us. The kid's excitement grows at seeing those rainbow bubbled letters with the backward R. Even if the child can not read; they recall that it is the place with the amazing toys.
You need people to recognize your organization through your logo, just as kids recognize Toys-R-Us. By having a symbol people remember you so your company can boom. Your logo will let you look established in the public's eyes. Potential clients will see you as a critical business worthy of the trust and their money.
Your logo is your external facing company representative. If designed right, it is going to present the people with the picture of the well-rounded business you're. You can bring in new customers by providing them a compelling image or hand-drawn illustration to remember your firm. You want your logo to be so powerful,  that when people see it, they know what your company is all about.
Choose Your Colors
Colors can be challenging, but fun. There's a psychology behind colors, and people associate them with particular feelings or thoughts. Research additional building, contractor, home improvement, and architect logos locally. You should try and avoid using the same color combinations as somebody else in your region since that can confuse customers.
You need to convey a feeling of security. Your company's support is to give shelter and stability if you build commercial buildings or homes, so avoid using too many colors. Too many colors can make you appear unreliable. Choose formal colors such as brown, magenta, red, and white. These are colors the brain associated with bricks and buildings. Try to restrict the layout to two or three colors to create a symbol that looks professional and not confused.
Choose a Font
Fonts are simple; you just need to keep it simple. You don't have to have wording on your logo to be recognized, but it is a fantastic idea to incorporate your business's name. Sticking with simple to read fonts like Serif or Sans Serif typefaces enables prospective clients to view and remember your title without difficulty.
Don't decide on a font style which has letters which could easily be confused with each other. Bold type is good since it is evident and reminds people of sturdiness. You may even create the bold font emphasized to make an eye-catching twist into the design.
If people can not read your name correctly, they won't recognize it even if they hear about you from somebody else. Construction names are usually directed to the point and do not get confusing so just make sure it's readable at a distance.
How to Pick the Wording
If you choose to use words, try to keep it uncluttered by using only the name of your organization. Folks remember simple; they are not very likely to recall a whole lot of meaningless words. They'll associate your name with your picture and know to call you whenever they want the service you provide.
Logos go on your advertising like business cards, brochures, and billboards. These should already have your email, address, telephone number and other contact info. You do not put your contact information in your emblem itself. As you do not include this additional information in your logo, it can adapt to fit any area without appearing cluttered.
Decide on an Image
You don't just need to use words on your logo. Use any image which you feel best reflects you, your service, or your business's name. Homebuilder logos typically use tools such as hammers in their layouts. This is an excellent way to show what you do, but be careful that it isn't like another construction business locally.
Houses are a fantastic image, but they could also be overused. Consider finding an illustration that has to do with your title. If you're "Panda Construction" attempt a panda bear picture or bamboo stalks. When folks see a picture with your name, they're more inclined to think of you and remember the image.
Choose a Versatile Design
You will need to be able to have a logo that will look fine on business cards, newspaper ads, signs, and billboards.  To be sure that your new logo will always look good at any size do not use intricate designs and little details. It should not be any more detailed than it has to be. If you use a lot of colors in the picture, it won't move well to black and white advertisements.
It also needs to be readily inserted into emails. Among the best ways to get your logo out to the general public is by using it in email signatures. You only want to be confident it looks great wherever you place it.
How Logos Takes Shape
As soon as you've got a general idea of what you would like on your logo, head over to 99designs.com
The ideal logo will jump-start any enterprise. It'll bring in new customers and let old clients refer you to other people. It will put you ahead of others in your area and set you apart from others in your business.
Read my review of 99designs logo design here